Increase producers' access to finance
Globally, there are 500 million households or 2.5 billion individuals who consider smallholder farming as an integral part of their livelihood. However, access to finance remains a significant challenge for smallholder farmers in developing countries and more especially in low-income countries with an estimated finance gap of 170 billion US Dollars. Reports from our overseas team indicate that producer groups continue to struggle to obtain the credit facilities they need to grow their businesses sustainably. The stringent requirements of local banks, including requests for security, deprive many producers of access to credit facilities and this continues to deepen the gap in finance.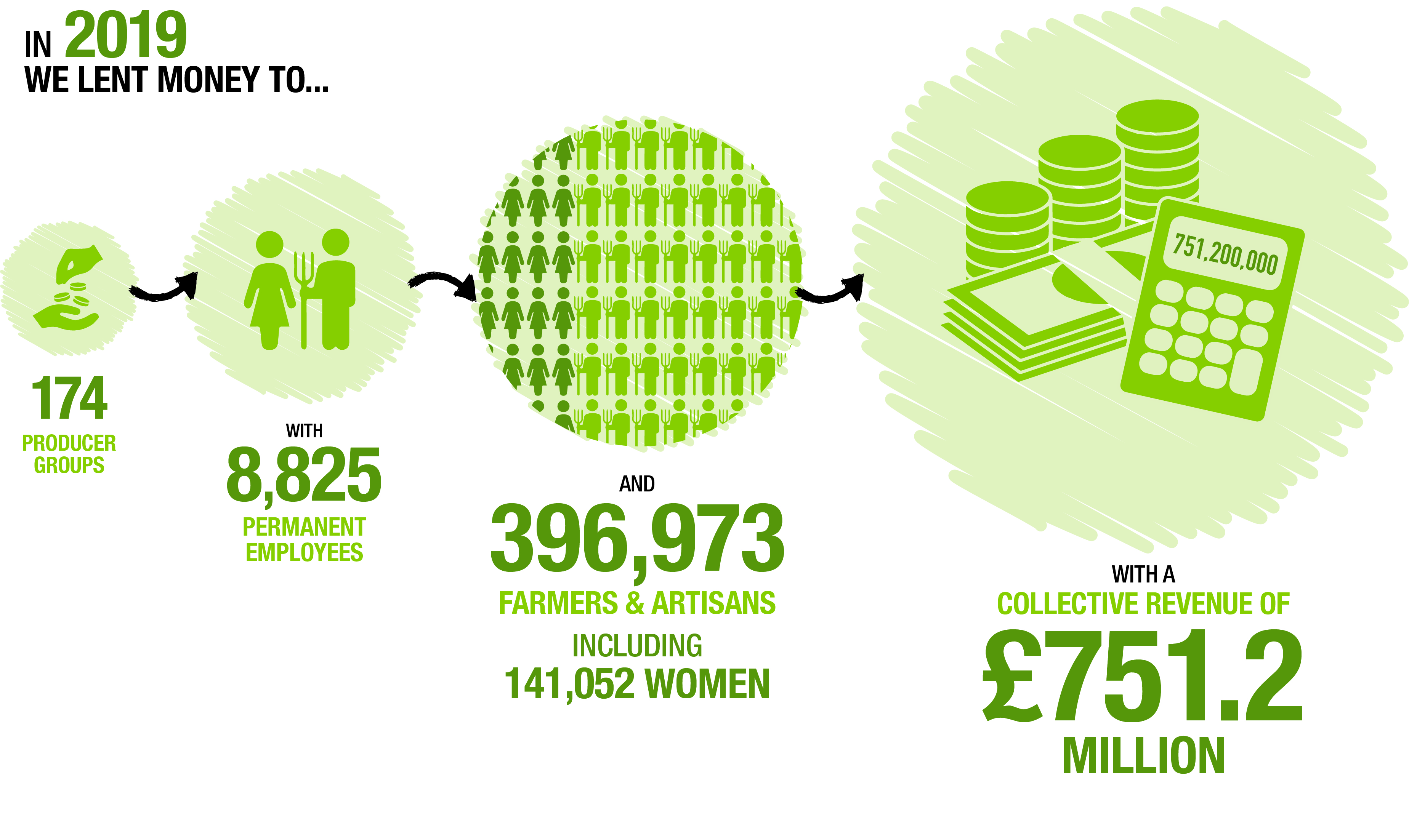 We lend in two ways: directly to fair trade producer groups (producer lending), and to fair trade wholesale or retail businesses (buyer lending). 
Payments for coffee and cocoa represent 65% of the total made this year. Payments for handcrafts represent 11.5%, a 3.5& increase from last year. Overall, our financial services had an impact on 396,973 farmers and artisans, 36% of whom are women. Although over 65% of our lending is focussed on the production of coffee and cocoa, this year we lent money to 174 producer groups to support a wide range of fair trade products, including the hibiscus flower in Burkina Faso, as well as maize and kidney beans in Rwanda. So that we could broaden our reach further, this year, we worked with a small number of producers who are not Fairtrade or World Fair Trade Organisation (WFTO) certified but comply with the ten Fair Trade Principles.  
When managing our lending, we split the portfolio into three regions; Africa, Latin America and Northern Hemisphere and Pacific Rim (NHPR). We have a total of 204 customers, equalling 174 producer groups and 30 buyers.    

You can download the Appendix for Aim 1 using the links below:
1. Directors Report and Accounts for the Society
2. Shared Interest Foundation Accounts
3. Rural and Agricultural Finance ~ State of the Sector
Appendix 4 Producer Survey Statements.pdf
Appendix 5 Explanation of our lending products.docx
Appendix 6 CSAF_State_of_Sector_2019.pdf
Appendix 7 Country Lending Risk and Analysis of Producer Lending.pdf
Appendix 10 Longitudinal Case Study of Prodecoop.pdf 
Appendix 11 Longitudinal case study of UGF-CDN.pdf
appendix-12-external-project-evaluation-report-final-swaziland.pdf

You can view the full version of our Impact Report here. 
Back to aim 1