Acopagro
ACOPAGRO, cocoa, Peru (producer)
Today, ACOPAGRO has over 2,000 members spanning four provinces. This community faces many challenges such as access to clean drinking water, lack of educational opportunities and sufficient health care. Fairtrade certification has helped ACOPAGRO alleviate many of these problems.
Finance from Shared Interest helps ACOPAGRO pay their farmers regularly and on time. 
Invest today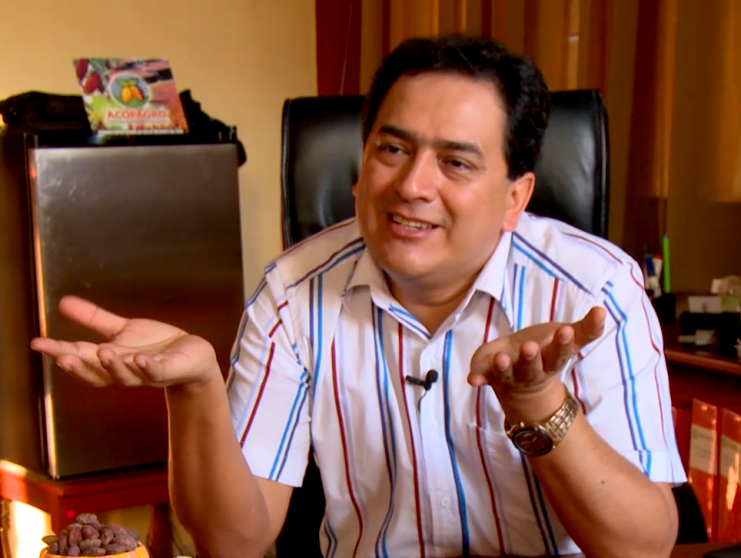 General Manager, Gonzalo Rios Nuñez, said:
"Shared Interest investors must know that their investments are being used to develop our organisation and we will not fail them. Together they trust in us, and together we grow."
Pictured: General Manager Gonzalo speaks during our featured ACOPAGRO film.
Co-operative carried by the joy of living
ACOPAGRO has offered medical support to their members and their families. Recently they installed 300 stoves to promote an efficient use of fuel and a better and healthier environment. The co-operative also offered a special annual bonus for university expenses of their members' children.
Founder, Ramiro Castillo, said: "From the very beginning, ACOPAGRO was much more than a co-operative society that marketed cocoa; it was rather carried by the joy of living. That hasn't changed today, even though in the meantime more than 2,000 farmers have joined as a result."
ACOPAGRO is now considered a best practice model of business development in Peru.
Back to map