The Little Book of Fairness
Hi from our Fairtrade Family
Introducing the concept of Fairtrade in a fun way, this booklet is perfect for use in the classroom, or for guided learning at home. Follow our special superheroes on a colourful journey across continents - to share what it means to be fair!
This year's edition is packed full of activities, including an interactive board game, recipe and fun stickers. Watch our demo video here on how to make our special Fairtrade Brazil Nut Balls. 
Click the button below to download and look at past issues in our Resources section. Or email us at info@shared-interest.com and we can post out copies to your home or school!
Download booklet
Meet Captain Cocoa
Join Captain Cocoa, the superfruit cocoa pod, to learn about climate change in her amazing animation below!
Then get creative with our cool Activity Pack.
Captain Cocoa works with Shared Interest to help spread the message of fairness. Shared Interest helps farmers from around the world, to ensure they're paid well and have enough money to live.
This is called Fairtrade.
VIEW OUR CLIMATE CHANGE ACTION ANIMATION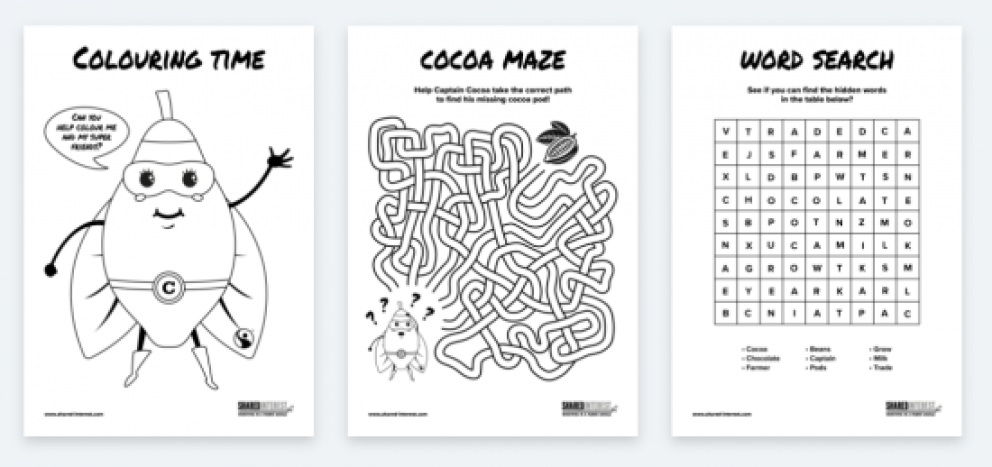 Activity Pack
Let us take you on a journey across continents - from cocoa pod to chocolate bar!
Get your crayons, pencils or pens ready to bring Captain Cocoa and Super Avo to life in our colouring task.
A-maze our superhero by reuniting him with his missing cocoa pod. Then, seek out some words to help Captain Cocoa on her way, through our Wordsearch. Finally, show off your multiplication skills by solving our cocoa-themed sums!
Download Pack