Finance
We offer a range of finance products
Shared Interest is an ethical lender based in the UK, with regional teams in Kenya, Ghana, Peru and Costa Rica. We raise investment, primarily from individuals, in order to provide finance to fair trade organisations across the world.
We lend to facilitate trade, build business capacity and help organisations to grow, particularly supporting trade from developing countries with more developed markets.
We strive to be a responsible lender and are proud to have been recognised with a Queen's Award for Enterprise in the Sustainable Development category, three times, as well as being named 'the most ethical finance institution working in the fair trade sector.'  Shared Interest is a strong supporter of fair trade and a current member of World Fair Trade Organisation (WFTO).  We are also a member of the Council on Smallholder Agricultural Finance (CSAF) which is a network of lending practitioners, meeting regularly to develop industry standards, share best practices, and engage other stakeholders to address barriers to market growth and impact.
Image: Segundo Garcia (L) and Belver Garcia (R), coffee producers from the CECAFE co-operative in  Peru.
Apply now
Our commitment to support trade
Our mission is to provide financial services and business support to make livelihoods and living standards better for people as they trade their way out of poverty.  We work collaboratively and innovatively with those who share our commitment to fair and just trade. With a community of investors and the support of donors and volunteers, we seek to contribute to a world where justice is at the heart of trade finance
Shared Interest raises its own share capital and uses these funds to meet our mission by directly providing fair trade organisations with trade credit and longer term finance. Extended credit periods are made available as a characteristic of the trade credit in order to cover the long periods of time between production, transportation and delivery associated with fair trade goods.
The businesses we support range from sole traders to large organisations and encompass individual producers to large scale coffee co-operatives and buyers. We offer a variety of lending options that enable our customers to finance orders; purchase essential machinery and infrastructure; make advance payments to farmers and artisans; and finance stock for new shops selling fair trade goods.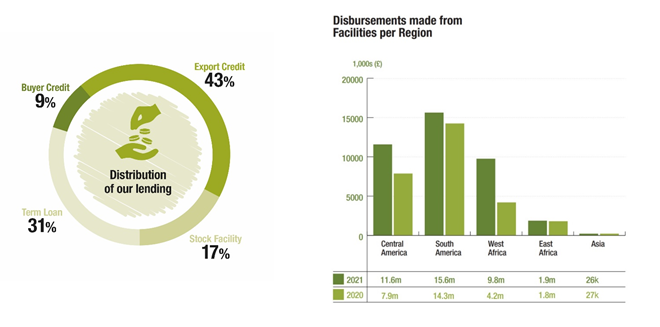 Through strategic partnerships with FLO (Fairtrade Labelling Organisation) and WFTO (World Fair Trade Organisation) Shared Interest has been able to build up a portfolio of fair trade customers who operate in the handcraft and commodity market. We remain committed to the Ten Principles of Fair Trade and this remains a very important criteria behind our lending decisions.